As the world of work changes, businesses are looking for flexible and affordable office solutions that allow them to grow and thrive. This is where Bucks Biz comes in, offering a range of serviced office spaces across three locations in the north and south of Milton Keynes. Whether you are a small start-up or an established company, there are numerous benefits to moving to a Bucks Biz serviced office ...


One of the key advantages of choosing a Bucks Biz serviced office is the flexibility it offers. With a range of office sizes available, you can choose the perfect space for your business needs. And if you need to customise your space, the Bucks Biz team can help with alterations, decorating, and even furnishing. This means you can create a space that reflects your brand and your business values.

Another benefit of moving to a Bucks Biz serviced office is the cost. With a simple monthly payment, you get access to a range of amenities, including round-the-clock access, free parking, high-speed fibre broadband, servicing, maintenance, and repair services. This means you don't have to worry about extra costs for things like utilities or maintenance, allowing you to focus on growing your business.

Bucks Biz has three locations across Milton Keynes, so you can choose an office space that's perfect for you. The Bletchley location is ideal for businesses looking for easy access to the A5 and the M1, while the Denbigh location is great for those needing to be close to the city centre. And if you're looking for a location with excellent transport links, the Newport Pagnell site is perfect, with easy access to the M1 and the A421.



Moving to a Bucks Biz serviced office also offers networking opportunities. W

ith a range of businesses operating within the Bucks Biz centres, you have the chance to connect with like-minded professionals and potentially grow your business through new contacts and collaborations. This is especially beneficial for start-ups or small businesses looking to expand their network.



And finally, Bucks Biz offers excellent support for businesses!

From design and build teams to on-site management and maintenance, the Bucks Biz team is there to help you every step of the way. This means you can focus on running your business, safe in the knowledge that you have a reliable and supportive team behind you.

In conclusion, a Bucks Biz serviced office in Milton Keynes is an ideal solution for businesses looking for flexible and affordable office spaces that can help them grow and thrive. With a range of locations, customisable spaces, and excellent support, Bucks Biz is the perfect choice for businesses of all sizes.

So, if you're planning an office move soon, don't hesitate to contact Bucks Biz and discover the benefits for yourself.
Related Posts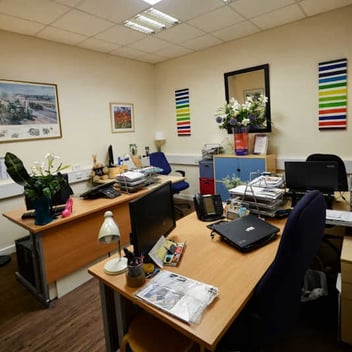 Bucks Biz offers serviced offices that provide an ideal workspace for increased productivity and a...