Today Destination MK (DMK) is holding the 7th annual #LoveMk Day, the day is not only to promote Milton Keynes as a business and leisure destination but also to showcase the pride that many people have in their city!
'Random Acts of Kindness'
Are you doing anything to help 'spread the love?' This year's theme is 'Random Acts of Kindness'. This could be anything from baking a cake for your work colleagues or buying the person behind you in the Starbucks queue a coffee. Perhaps if you're a local business, you may be putting on a special offer for your customers in celebration of the day.....whatever you do, get involved on social media and share your activities using the hashtag #LoveMK Day.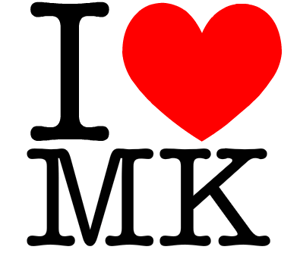 Why is Milton Keynes so great for business?
The Commute!
Milton Keynes is at the centre point between London, Birmingham, Oxford and Cambridge, so easily accessible by train and car. Improvements in the transport system has increased opportunities for work and leisure and according to Milton Keynes Council, MK ranks 4th highest for new business start-ups.
Fastest growing population
Milton Keynes is the fastest growing city in terms of population and is set to reach more than 300,000 by 2026!
Designed for business growth
Milton Keynes has some of the largest concentrations of North American, German, Japanese and Taiwanese firms in the UK including Mercedes-Benz, Domino's Pizza and Coca-Cola.
Cost-effective for smaller businesses
The cost of commercial property is significantly lower than London and the ability to recruit a skilled workforce is higher, facilitated by the local college and university schemes.

Are you looking to rent units in Milton Keynes?
At Bucks Biz we pride ourselves in supporting local and upcoming businesses by providing all-inclusive quality work spaces at affordable prices in strategically important locations. Across our three facilities in the Milton Keynes we house more than 250 flexible working units. We have various sizes of office and studio space to rent depending on your needs, if you're interested and would like to view our available spaces call 01908 299007.