International Nurses Day is organised annually by the International Council of Nurses. It is celebrated all around the world on 12th May to commemorate the birthday of perhaps the world's most famous nurse, Florence Nightingale and to celebrate the contribution that nurses make to societies around the world.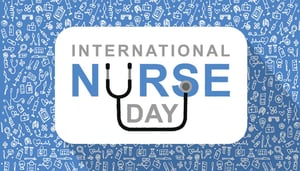 Why are nurses so important?
Nursing is a healthcare profession that involves years of training and continued specialized education to care for patients in a variety of settings. Nurses are often the first healthcare professional that patients meet. They are a technical expert, an educator, a counselor and a resource for the family, using all senses to better care for a patient.
How is nursing relevant to Bucks Biz you may ask? Well, did you know that we have numerous nursing based companies as part of our Bucks Biz family?
Newport Pagnell:
Bluebird Care is a leading homecare and live in care agency providing high quality homecare and support services to keep people safe and comfortable in their own homes. Find out more.
Homecare Preferred are providers of homecare and providers of accessibility and mobility living equipment to a wide range of clients, ensuring that they can remain at home in an environment that is comfortable and familiar to them. Find out more.
Mayfair Homecare provide quality, friendly and fully trained staff to deliver high quality care and support that meets peoples individual needs. Find out more.
Bletchley:
Authentic Kare deliver high quality domicilliary, supported living, live-in and home care services enabling people to remain as independent as possible. Find out more.
Jade Care Services are a specialist Nursing and Domicilliary Care Agency which offer healthcare recruitment and Domicilliary care services to provide clients the care they need in the comfort & privacy of their own home. Find out more.
My Homecare help people who either through illness or injury, require assistance to maintain their well-being, whilst continuing to live in their own home and neighbourhood. Find out more.
Elevate Care is an advancing health and social care establishment that specialises in providing quality health and social care to service users in their homes and supply of professional staff to Nursing Homes, Residential Care Homes, NHS and Private Hospitals in and around Buckinghamshire county. Find out more.
24hr Swift Care Services Ltd is a home health agency that is committed to providing the highest quality supportive care in clients own homes. Find out more.
So, on International Nurses Day, we'd like to give a big shout out to all organisations who provide nursing and care support - you all do a fabulous job!
Are you looking to rent units in Milton Keynes?
At Bucks Biz, we take pride in our flexible model of up-sizing and down-sizing work spaces in all of our Business Centres to rent in Milton Keynes. It is important for us that you are in a space that is conducive and appropriate for the nature of your business as and when your business needs it. We have various sizes of office and studio space to rent in Milton Keynes. If you are interested and would like to view our available spaces to rent call 01908 299 007 now or click the button below.