You know that we like to help you to meet your neighbours in our Milton Keynes Business Centre and today we thought we'd introduce you to Fred, from CTS Education. Read more to find out about his business and how it came about, and how Bucks Biz's flexible office rentals have been a key part of their success ..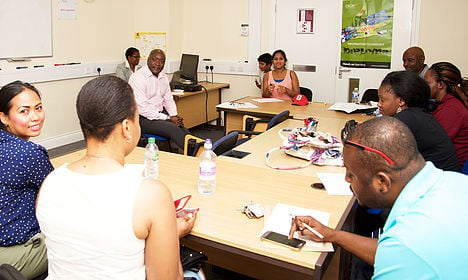 CTS Education is a private Access to Higher Education provider (Access to University) founded because of a need Fred identified while working as a College Lecturer for 15 years.
Fred witnessed mainly adult students drop out of Education because of family commitments, work etc. So he decided to start a College to address the need.
CTS Education offer flexible courses as opposed to the main stream Colleges, in that our Students can study during the week, in the evening, on Saturday, online/In class (Blended learning) or just on line.
CTS's Access to Higher Education courses (University entry courses) include; Nursing, Midwifery, Business, Law, Education studies, Social work, Science etc.
CTS Education have been a resident at Bucks Biz for 4 years and have fully utilised the flexibility of office space available. Fred says: "We started in October 2015 at Bucks biz (Bletchley campus) in a small office and rented the Bucks meeting room for a while. This suited us well while we were a small, growing business. Later, once we were more established and needed larger commercial premises, we moved to the back of the building where we are based now."
Fred's light-bulb idea, combined with Bucks Biz flexibility clearly works. CTS have seen steady growth over the last four years, starting with 18 students in 2016, 40 students in 2017, 65 students in 2018 and 86 students this year 2019.
This growth can only be attributed to the flexible nature of our courses which meet the needs of Parents, the working class and any one who has other commitments preventing them from attending the main stream colleges. Fred says: "We couldn't be this flexible without 24 hour access to our office and Bucks Biz's Milton Keynes Business Centre provides us with that - not to mention plenty of parking and facilities that help to make life easier for our students."
Are you looking for flexible office space to rent in Milton Keynes? Just click the button below to find out how we can help you.