Today is International Women's Day and, at Bucks Biz, we wanted to write about women in the workplace and in particular feature two business owners and tell their story about how both businesses have grown with support from Bucks Biz thanks to their Milton Keynes Business Centre.
Amanda Holland and Rachel Allen met last summer via a Facebook Group, both looking for new office space. Amanda, partner of employment screening company Tango Check, said: "With an expanding client base Tango Check needed to look at new premises but we were reluctant to commit to large overheads and contract terms knowing that we had continued expansion plans for the year ahead. Interchange House has offered us flexible solutions which has enabled us to continue to grow the business. I met Rachel through my search for new office space in Milton Keynes and Rachel subsequently leased some space from us in our new offices.
Rachel, director of Rachel Allen Marketing adds: "I had looked at a number of co-working spaces but I really needed things like free car-parking and access to the building 24 hours. The Bucks Biz offer was really flexible – it's great that a business owner can sub-let a desk out and it gives the person sub-letting the option to try on a low-risk basis. Dom was right when he told me that I'd be in my own office within a year – with the boost to my business of getting away from my home, I've now taken on a member of staff and we have our own two-person office – with plans to move again already!"
Tango Check has continued to grow and has since secured larger work space within Bucks Biz. "The flexibility here really works for us. There are good meeting room facilities and friendly reception staff to greet our visiting clients. We had looked at a number of managed office spaces in the area but I think that the flexible approach, support and cost-effective offices were what won us over."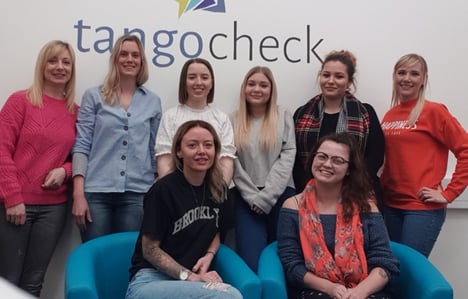 Both Amanda and Rachel are running their own businesses and have young children, so the theme of balance on International Women's Day is one they are very keen to promote. Rachel says: "Both Amanda and I work really hard on our businesses and growing them like we have done has been really challenging. But, there's nothing that we can't achieve and it's fantastic to live in a society where women have the same opportunities as men to run their own business."
[Photo: Rachel Allen Marketing with a number of the Tango Check team]
Are you looking to rent an office close to you in Milton Keynes?
At Bucks Biz, our clients benefit highly from the advantageous facilities and resources on all of our Business Centre sites and we do our best to accommodate their business needs as it is important to us. From on-site gyms, health and beauty services right through to our cafe, reception and post services are offered when you rent an office space with us. We have various sizes of office and studio space to rent in Milton Keynes. If you are interested and would like to view our available spaces to rent, call 01908 299 007 now or click the button below.