The number of self-employed people in the UK has been increasing steadily since the turn of the century. At the end of 2019 there were 5 million self-employed people which equates to just over 15% of the working population.
The pandemic has had an impact on self-employed people and employees alike. The number of people working for themselves was down to 4.31 million by February this year, and many of the remaining small business owners have given up their offices to keep costs down in uncertain times. Many employees have also been working from home for more than a year now.

Some major employers have told their staff to work anywhere. In fact, research has shown that many people who were able to work from home during lockdown have been just as productive.

Will current work patterns continue? Well, many people are expecting remote working to remain, even after the anticipated review of social distancing rules on 21 June.

While employees and small business owners won't miss their journeys to work, or the 9 to 5 routine, there are some very practical implications for your home life. As lockdown restrictions are eased and family routines are restored, working on the dining room table or in your bedroom will become more and more inconvenient.

As we look forward, one simple solution to this change is to choose flexible co-work spaces and short-term leases.

They will provide a convenient, professional environment close to home, but not in the home. There will be opportunities to meet and collaborate with others and, with good broadband connections and hybrid telephone systems, the experience for colleagues and customers will be seamless.

April was Stress Awareness month, which highlighted that many adults were finding disconnection from their familiar work environment and lack of contact and control to be significant issues. Setting out for your office regularly, even if it is nearby, will add structure and routine to your life.

As restrictions are eased, you will meet and talk with a wide array of other self-employed people and remote workers - an opportunity to recreate the energy and enthusiasm you might be missing from your previous workplace. You can even decide to socialise with a new group of people or make the short journey home for your lunch or to go to your local gym.

Most importantly, at the end of a busy day, you can close the door and walk away to spend some quality time with your family and friends.

Would you like to know more?
We have established two modern facilities in Bletchley with more than 250 flexible work units covering a total of 150,000 square feet of available space. They are an ideal alternative for home workers and small business owners.
The Denbigh Business Park is a great place for start-up companies and small businesses. It has its own thriving community with a wide mix of offices, workshops, light industrial and storage spaces.


There's also the new iCentre in Newport Pagnell offering small and growing businesses ultra-modern, eco-friendly buildings.

We have worked with many entrepreneurs and business professionals, providing support for a flourishing future. If you're ready for a new work environment, get in touch today.
Related Posts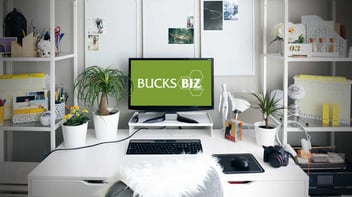 Did you know that numerous world-renowned corporations had their humble beginnings at home? From...
We all spend a lot of our time at work. With short deadlines, big personalities, occasional...