Aagh! We missed International Ninja Day! How did that happen? Nevermind, we'll introduce you to our resident Martial Arts Academy anyway. Read on to find out all about Banks' Martial Arts Academy, who are based at our Bletchley Business centre.Set up by Thomas Banks - former Top Ten UK captain and GB team member, Banks' is Milton Keynes' brand new kickboxing, boxing and fitness gym.
Fun Fact: Edward William Barton-Wright, a railway engineer who had studied jujutsu while working in Japan between 1894 and 1897, was the first man known to have taught Asian martial arts in Europe. Fortunately, you don't need to go to Japan to learn Martial Arts these days, and Thomas and his team are fully qualified to teack anyone from 3 years old - including female only kickboxing classes and leadership training.
Tom says "Martial Arts helps to reduce stress and tension by giving an opportunity to relieve any anxiety, which has built up during day to day life."
Along with Robert, Meg and Amina, Thomas teaches a full schedule of classes running from 9am to 9pm Monday - Saturday.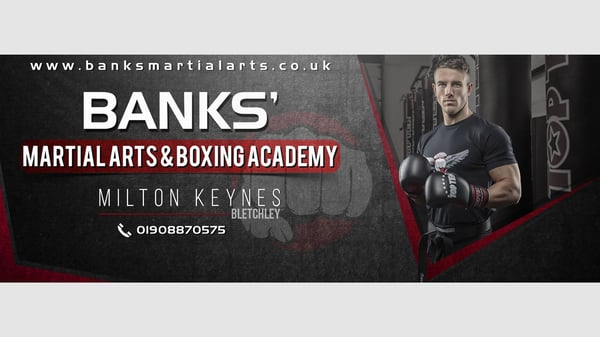 Robert says "Kickboxing works all of the major muscle groups of the body, increases heart rate, increases oxygen intake requirements, and is an excellent choice in conditioning the entire cardiovascular system."
Martial Arts help instill mental focus, improving the ability to concentrate on a task and see it through to its conclusion. The discipline that is taught in the gym translates into other areas of life, including school and household chores while teaching students to treat others as they wish to be treated themselves.
We could all do with a bit more focus, discipline and concentration couldn't we? Especially around the chocolates tin at Christmas time!! Why not get in touch with one of the team and see if Martial Arts could be a part of your New Year fitness and wellbeing routine!
You can email the team at info@banksmartialarts.co.uk or follow them on Facebook HERE