We first introduced you to Tango Check as a new resident of Bucks Biz back in July 2018 and thought it was about time we gave you an update. In the run up to Christmas, the lovely people at Tango Check are co-ordinating collections for MK Foodbank, so it seems a good time to let you know about both at once! Read on to find out more:
Tango Check provides staff vetting services including employment referencing, educational qualification checks, right to work, adverse credit and criminal searches and sanctions reports. Their clients are typically recruitment agencies wanting to outsource the staff screening element of their process, particularly those within the finance and banking sectors. Tango also provide specialist screening for anyone requiring Airside ID pass referencing and BS 7858 Security Screening. Their services can be utilised by anyone employing staff from a one off check to high volume requirements.
The MK Food Bank
is a charity set up to help families in need in the Milton Keynes area. It relies entirely on donations of food and money from local schools, churches, businesses, organisations and individuals and every single item or penny given makes a difference. The food bank's warehouse and serving centres are manned by volunteers from the local area.
Tango Check are co-ordinating donations to the food bank from their office at the iCentre. The supplies most needed by the food bank are: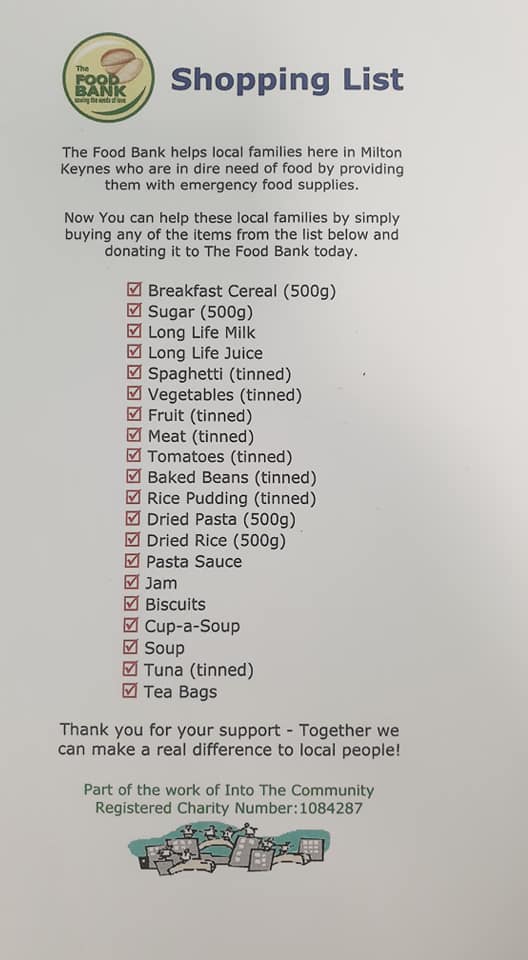 Emma from Tango Check said "Tango Check are collecting items in the run up to Christmas to support The Food Bank, a way of providing food to those in need. We would love it if you could join in too! We are a friendly bunch and can be found in Suite 140 on the First Floor of Bucks Biz in Newport Pagnell (shown as Hive on the map!) Please feel free to pop by with any of the items from the attached list and we will provide them to The Food Bank. Contact us on info@tangocheck.co.uk if you can't find us!"