Today is International Podcast Day. Podcasts are a great way to learn, find inspiration, or be entertained, whilst doing other things. We like to listen to podcasts whilst driving, doing housework or walking the dog, but what should you be listening to for business inspiration? To get you started, we thought we'd share our top five UK based podcasts for small businesses.
According to Offcom, about 7.1m people in the UK listen to podcasts each week, and these numbers are growing. It's not just comedy and recaps of your favourite radio station though ... some of the best podcasts are aimed at start-ups and small businesses and feature business leaders sharing their experiences as well as educators providing knowledge and experts in their fields sharing their top business tips. Podcasts can provide inspiration and advice, as well as a feeling that we are all in this together!
Listening to podcasts couldn't be easier - either via your smartphone or laptop, or even your smart speaker. So, to give you some inspiration to get you started, we thought we'd give you our current favourite five podcast recommendations to get you started.
The Small Business Sessions by Enterprise Nation and Xero is a weekly podcast that shares the stories behind Britain's brilliant small companies. Enterprise Nation helps people turn their good ideas into great businesses through inspirational events, a supportive community, expert content and a campaigning voice.
Why We Love It
Episodes are only 30 minutes long, so ideal for your commute/exercise session/lunchbreak.

Topics are diverse, but all specifically applicable to small businesses in the UK.

Sign up to Enterprise Nation for free, to access a huge range of information, workshops, talks and advice, all specific to UK small businesses.
Billed as the UK's number 1 business podcast, Secret Leaders is described as "a collection of contrasting, irreverent interviews with the high-flying CEOs and forward-thinking founders of some of the most successful businesses in the UK and US". These include Martha Lane Fox (Lastminute.com), Nick Wheeler (Charles Tyrwhitt), Jo Malone, Nick Jenkins (Moonpig), David Buttress (Just Eat) and Karen Jones (Café Rouge).
Why We Love It
With 75 episodes currently available online, you won't run out of things to listen to any time soon!

Their spin off show 'Represented By' is a weekly show highlighting 'some of the best black and minority founders pitching for investment in their big, bold ideas from

some of the world's best investors.'
Co-founders Rich and Dan are young, successful entrepreneurs providing inspiration in their own right.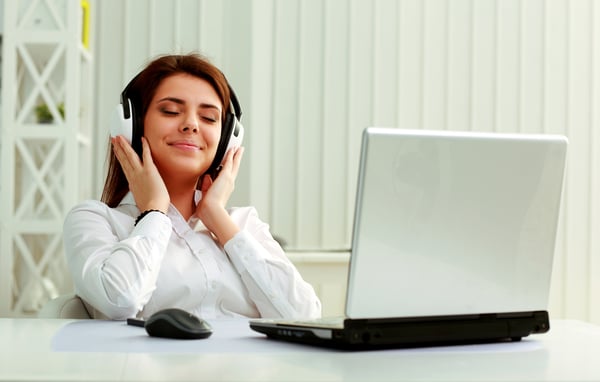 As founder of Notonthehighstreet and Holly & Co, Holly Tucker has spent the last 15 years growing and empowering small businesses around the UK. In Conversations of Inspiration, Holly hears from founders and top entrepreneurs each week to discover the highs and lows encountered whilst building their business, and share some advice and inspiration along the way.
Why We Love It
Produced in partnership with NatWest, who give away their ad break space to a small businesses every week.

Podcasts are grouped into 'collections' on the holly.co website, so you can target your listening to specific topics.
The curated podcast shop, where you can buy items from businesses featured on the podcast, amongst other recommended products.
Carrie Green is founder of the Female Entrepreneur Association and author of the bestselling book She Means Business! The podcast brings together incredible stories of female entrepreneurs from around the world who are following their hearts and building the business of their dreams. Carrie also shares her personal experiences of building two successful businesses with no money, no business knowledge, but lots of ambition and determination to figure it out. Aimed at women, but applicable to all entrepreneurs, this podcast will provide the honest, realistic and practical tools you need to follow your heart and create a wildly successful business.
Why We Love It
Less 'businessy' than some of the others - it's more like a conversation with a girlfriend.

Great combination of business knowledge, encouragement and positivity
Kate Hills is on a one-woman mission to save UK manufacturing. In this podcast she shines the light on British brands and manufacturers, and goes behind the scenes of their businesses. With tips, hints and tricks to help you manufacture in the UK and buy British.
The accompanying Make It British website is a one-stop-shop resource for British brands and manufacturers.

Great stories of manufacturing success in the UK

Virtual events, training and directory membership
Do you listen to podcasts for business or pleasure? or even create your own podcast? We'd love to head your favourites, and let us know if you are a podcast creator - we'll take a listen!
Bucks Biz provides office space for rent in Milton Keynes, with units available for all sectors, to suit a wide range of requirements. From small one-person offices to warehousing or offices with socially-distanced space for 100 people - we have the perfect base for your business.
We are more than just space to rent too. We are a community of businesses all eager to help each other. Throughout the pandemic, we have supported our residents to secure funding where it has been available and in adhering to social distancing and safe working practices, throughout our centres.
Why not visit us and see for yourself?