Today (10th October) is World Mental Health Day. This year's focus is on Suicide Prevention and the World Health Organisation are inviting everyone to join them in "40 seconds of action" to raise awareness of the scale of suicide around the world and the role that each of us can play to help prevent it.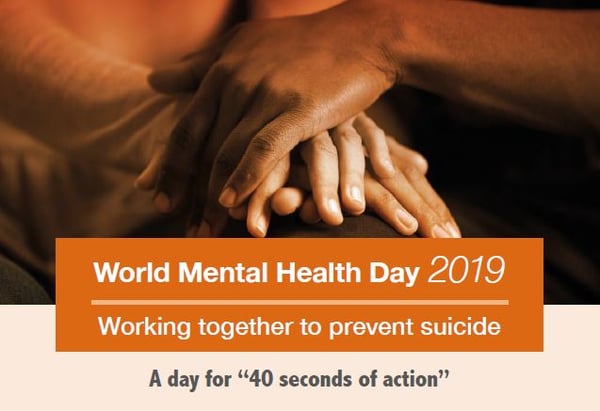 On this year's World Mental Health Day, in addition to events and activities taking place on or around 10 September, we are encouraging you to prepare to take "40 seconds of action" on 10 October to help us:
Improve awareness of the significance of suicide as a global public health problem
Improve knowledge of what can be done to prevent suicide
Reduce the stigma associated with suicide
Let people who are struggling know that they are not alone.
Put simply, this is an opportunity to show you care. Everyone can take part in whichever way makes most sense. Your activity may be private, for example, initiating a conversation with someone you are worried about or sharing a message of hope with someone who is struggling; or it may be public, for example posting a video message for local or national authorities about action you would like them to take on this issue.
Not sure what you can do in 40 seconds? Here are some ideas:
If you are struggling, take 40 seconds to kickstart a conversation with someone you trust about how you are feeling.
If you work in media, highlight the 40-second statistic in interviews, articles and blogposts.
If you work in the arts or on digital platforms, interrupt your production or broadcast to transmit a 40-second message about mental health.
If you are an employer or manager, take 40 seconds to formulate a positive message of support to your employees about resources available to them in the workplace or local community in times of mental distress.
If you want your leaders to hear your request for action, record a 40-second audio clip or video telling them the action you want them to take on suicide prevention and mental health.
If you have a platform for communicating with a large audience (social media, television, radio), provide 40-second slots for sharing mental health stories and messages.
There is a useful page on the Mental Health Foundation's website that gives employers some hints and tips about how to manage work life balance to support positive mental health.
The most important thing to do is to have somewhere people can be signposted to for advice if they are struggling and a culture where people talk openly about mental health. There is a lot being done to raise awareness of mental health issues and it's great that people are talking about it more openly, however there's still a lot of people suffering and it's resulting in loads of days off and an impact on people's general health and wellbeing.
The charity MIND has a branch that works across Bedfordshire, Milton Keynes and Luton. They offer support and training for companies in the local area to help train staff and managers about how to spot the signs of stress and mental ill-health in the workplace and put some measures in place to reduce this. You can access their site here. If you're an individual and need some help with your mental health and wellbeing, please check out the services on offer for people here.
If you are looking for office to rent near me or workshop space to rent, just click the button below and someone from our Milton Keynes Business Centre will be in touch. Don't forget we also have commercial property for rent Bletchley.