With BBC weather forecasting temperatures of 31 degrees in the region of our Milton Keynes Business Centre, how will you keep your cool in the office? Read on for our top tips ..
Yes, the schools are out, so the heatwave can begin! BBC Weather predicts temperatures of 31 degrees in Newport Pagnell this week, so how will you keep your cool? Short of closing the office and heading to the beach, we thought we could all do with some great ideas to combat the heat.
Greatest.com has this great article on how to keep your cool at home during the night, but how can we adapt that to suit our commercial space? If you don't want to smash out for an air-con unit, or even just the resulting electricity bill, what else can you do?
1. Dress appropriately
Forget jackets and ties for a while - cotton is best. You might not feel it appropriate to show up at work in a bikini top and shorts, but loose, light coloured cotton can look smart, and keep you cool at the same time.
2. Use the ice box
If you've got a fridge in the office, it can do more than keep the milk cold. Keep a couple of ice packs in the ice box and you're sorted for some emergency cooling! Wrap in a tea towel and place against your lower back, feet, pulse points - whatever it takes to cool you down. You can also keep ice on hand for cooling drinks and boosting the cooling power of your fan ...
3. Be creative with your fan
In very hot weather, fans can struggle to make an effect - they really just circulate the existing hot air around. You can boost their efficiency though by thinking creatively. Greatest suggests "Point box fans out the windows so they push hot air out, and adjust ceiling fan settings so the blades run counter-clockwise, pulling hot air up and out instead of just twirling it around the room." You can also place a dish of ice in front of the fan, so that the air it pushes out is cooled down on it's way!
4. Unplug the gadgets
Electric appliances and lights give off heat, even when they are switched off. Unplug as much as you can until you need it - you'll save on your electricity bill too!
5. Take inspiration from your hound!
Why should dogs have all the luxury? We can't vouch for their effectiveness, but these pet cooling mats look like they're worth a go. Place one on your chair and it should bring your temperature down a degree or two!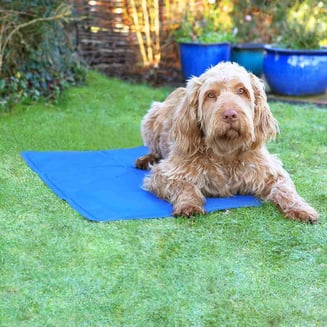 How will you keep your cool during the heatwave? Have you tried the pet cooling mat? Have you invented another ingenious way to beat the heat? We'd love to hear from you.
For a cool way to rent great office or studio space in Milton Keynes, click this button: