When searching for your ideal office space, careful planning is crucial to identifying what size will best suit your business at this present time. Too much or too little space can have a huge effect on your finances.
By assessing where your business currently is with these key questions, you are able to determine what type of space you need and what size you need in order for your business to operate effectively and comfortably.
1) How many people do I currently employ?
2) Do I expect to add any more staff in the next couple of years?
3) Will my employees require a shared, or will they need an individual work space?
4) If taking on any more employees, what type of staff; executive, administrative or sales?
Generally, the amount of office space you need is estimated according to head count and your industry type. Typically, 150-350 square feet (SF) per person employed is allocated.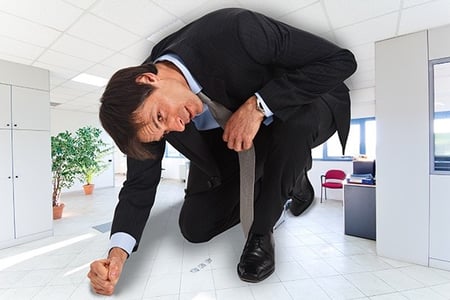 As the space can vary from an open plan space with no private offices, everyone is sat together on one large table in either cubical clusters or tables to a traditional layout with private offices. A traditional layout would have large conference, meeting and support rooms e.g. file rooms and kitchens. The likes of law firms and financial organisations would prefer this traditional layout in order to maintain confidentiality and privacy.
You would need to think thoroughly on what type of space would be most suitable for your business and team to work effectively and efficiently. It may be that your team will better function with an open plan or closed space or even a combination of both. You will also need to take into consideration whether you would need additional space for other operations such as a storage room.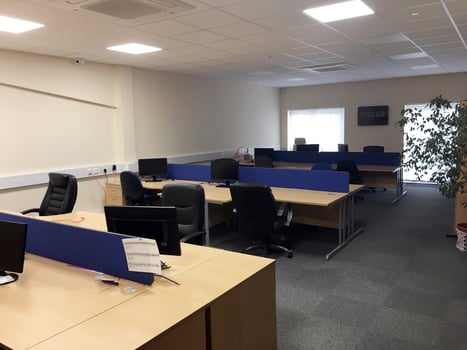 Taking time out to evaluate your business' employee growth plan will be vital to determine what type of work space you require and could save you a substantial amount of money. You put yourself at risk of spending so much by having to move to a different office space due to insufficient space to accommodate your staff team mid-lease. Build or rent in accordance to your expected growth.
At Bucks Biz your life is made easy as upgrading your office space is always permitted (of course we will take more money from you!) so you can easily upgrade your office space as and when your business requires.
Are you looking to rent industrial units close to you in Milton Keynes?
At Bucks Biz our clients benefit highly from the advantageous facilities and resources on all of our Business Centre sites and we do our best to accommodate their business needs as It is important to us. From onsite gyms, health and beauty services right through to our cafe, reception and post services are offered when you rent an office space with us. We have various sizes of office and studio space to rent in Milton Keynes. If you are interested and would like to view our available spaces to rent call 01908 299 007 now or click the button below.