Yesterday, we started the first in our series of COVID-19 advice posts with some tips around defining risk in your workplace. We shared some suggestions how to work out what you need to do, to keep your employees and customers safe during the phasing out of 'lockdown', whilst optimising employee engagement in the process. Today, we are talking about some steps we could and should all be taking to keep our employees and customers safe during the pandemic, as well as how to promote confidence in your environment.
As with the last post, the advice in this series is by no means intended to be legal or expert. We have taken our suggestions largely from HM Government's document "Working Safely During COVID-19 in offices and contact centres", which you can read for yourself HERE.
What is expected of you, as an employer?
The law states that employers have a duty to reduce workplace risk to the lowest reasonably practicable level by taking preventative measures. This means that you are not expected to completely eliminate risk (that's pretty impossible) or bankrupt your business with over the top measures. But you should be doing everything you can within your reasonable ability, to reduce the risk to employees and customers as much as you can.
Clear as mud? There's certainly a grey area there, isn't there? But that's because, what is practical for one business sector, is completely out of the question for another. If you are a hairdresser for example, in addition to the requirement to wear your own PPE, you might decide to ask customers to wear face coverings throughout their visit. That request wouldn't be so workable for a dentist or photographer! You can read more advice specific to close-contact services HERE.
Each business needs to carry out its own Risk Assessment to work out what is reasonably practicable for them, keeping in mind the expectations of their employees and customers, but also factors specific to their operation. There are some steps that we can all take, regardless of our business though.
The HM Government guidance suggests:
Increase the frequency of hand washing and surface cleaning. Bucks Biz are helping as much as possible here by increasing the frequency of cleaning communal areas, but you must remember that you are responsible for the cleanliness of your own unit.




Use screens or barriers to separate people from each other.




Use back-to-back or side-to-side working (rather than face to face) wherever possible.
Residents of Bucks Biz have an advantage here in fully flexible units to help with increasing the distance between employees and customers - if you need more space to make this work, we can accommodate increasing unit sizes easily.
Some other simple measures you could take:
Provide plenty of tissues throughout the workplace, so that people can 'catch and bin' coughs and sneezes. Also providing antibacterial spray/gel where it is needed (next to tissues, high frequency touch-points etc) will make things easier for your employees and avoid carrying and sharing individual bottles of sanitiser. No-contact dispenser bottles would be perfect here.




Discourage employees from leaving the building for lunch or other errands if at all possible, since they could potentially increase the risk of carrying the virus back into the office with them on their return. Could vital errands (like banking, post etc) be carried out at the beginning or end of the day, as part of an existing journey?




Discourage, or simply don't accept, the use of cash. We're all getting used to contactless payments now anyway, aren't we?



Encourage employees to bring their own packed lunch to work with them. It might also be worth limiting or preventing the use of a shared microwave, plates and cutlery etc. This is something you would want to discuss with your employees, as discussed yesterday, to ensure their buy-in and avoid bad feelings.


Keep any windows and doors open as much as possible (you might need to check your fire safety regulations), to promote airflow through the workspace. Again, you may want to discuss this, and the reasons for it, with your employees, so they can be prepared with warmer clothing if necessary.




Discourage the practice of sharing birthday cakes and treats, or passing around cards to sign. We know, this could be a controversial one, as these practices are a source of employee bonding in many workplaces, but again, discuss it with your team - is it really worth the added risk?
Spread the news (not the virus!)
Once you've done all of this work to ensure your workplace is as COVID-19 safe as possible, how will you let people know? Think about sharing the results of your risk assessment with your employees, union representatives and even publishing them on your company website (all employers with more than 50 employees are expected to do this anyway). You could even share via your social media channels, so that your customers know that they are safe with you too.
You can download a notice to display in your workplace and electronically, from the government website HERE.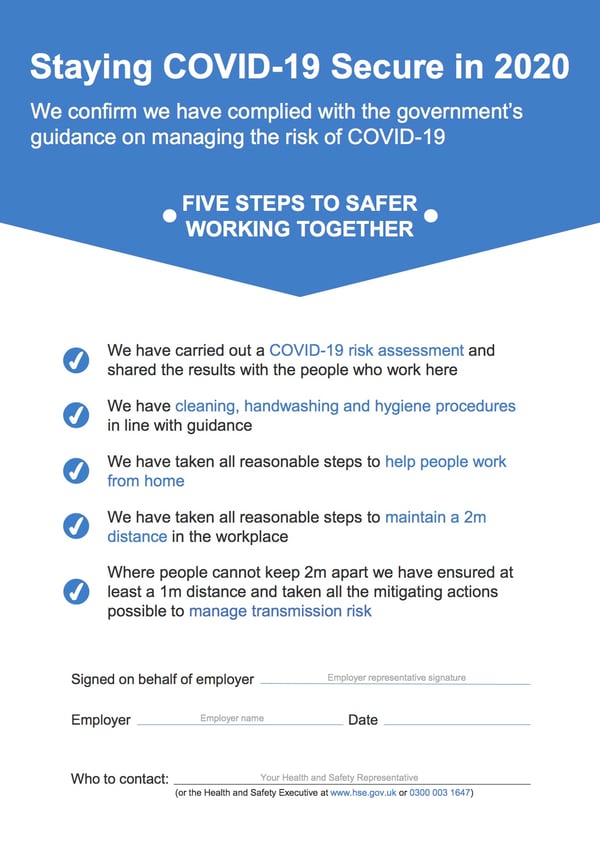 Don't forget - employers found not to be taking appropriate steps to ensure employee welfare could face sanctions by the HSE or local authority.
Come back tomorrow, when we will be discussing what extra steps you might want/need to take to secure the safety of people who are at higher risk and/or needing to self isolate.
Bucks Biz provides office space for rent in Milton Keynes, with units available for all sectors, to suit a wide range of requirements. From small one-person start ups, right up to large spaces fit for 100 people (to be socially distanced!) we have the perfect base for your business.
Our flexible licences allow you to easily upgrade and downgrade your space as and when your business requires it - so you won't get caught out by needing more space to spread your employees out again.
We are more than just space to rent though. We are a community of businesses all eager to help each other. Throughout the pandemic, we have supported our residents to secure funding where it has been available and in adhering to social distancing and safe working practices, throughout our centres.