Should I Stay Or Should I Go?
In the third instalment of our blog series on working safely as we come out of COVID-19 lockdown (Parts 1 and 2 can be read HERE and HERE) we are discussing issues related to working from home or from the workplace, and share some creative ways the decision could be made easier.
As always, our caveat: This advice in this series is by no means intended to be legal or expert. We have taken our suggestions largely from HM Government's document "Working Safely During COVID-19 in offices and contact centres" , which you can read for yourself HERE.
So, back at the beginning of lockdown (can we remember that previous life?) it was *relatively* clear who should be travelling to work outside of their home, and who should be staying put. Now though, as we gradually emerge from lockdown, and it seems to be ok to visit pubs, shops and busy beaches, the rules are becoming less clear. The official line is still that we should be working from home if at all possible. But that sounds a lot like the phrase we talked about yesterday - reasonably practicable - doesn't it? Again, it's a grey area that varies massively from business to business. The impact on a business of employees working from home varies massively. So how do we decide what to do?
Well, back to the HM Government guidance. The wording is "everyone should work from home, unless they cannot work from home". If an employee working from home causes a real risk to the business, or to site safety, or prevents regulatory requirements being met, then they should now be going to work (assuming it has been made reasonably safe for them to do so - see yesterday's blog)
Similarly, if a worker's critical role might be able to be performed remotely, but can't because of home circumstances or safety requirements, they too should now go to work.
Keeping Employees Safe At Home
Assuming you've carried out the processes outlined in the last two blogs and completed your risk assessment, your at-work employees should feel as safe as they can be. But what about the employees working from home? What are your responsibilities to them?
Employers still have a duty of care towards these workers, to make sure they are connected to the rest of the workforce and are monitored for welfare, mental and physical health and personal security.
When lockdown was announced, many of us left work on a Friday, unaware we wouldn't be back on Monday. We didn't have chance to think about things we might need, in order to work from home for 3 months! Who, looking back, wishes they'd thought to bring their laptop riser, footrest, or even that fancy ergonomic chair you were given after an employee health assessment? It would have made working from the dining table more comfortable, wouldn't it?
As many, or even most of your employees return to the workplace, it's important to make sure you continue to look after those staying at home, and that might mean assessing their home environment (possibly remotely!).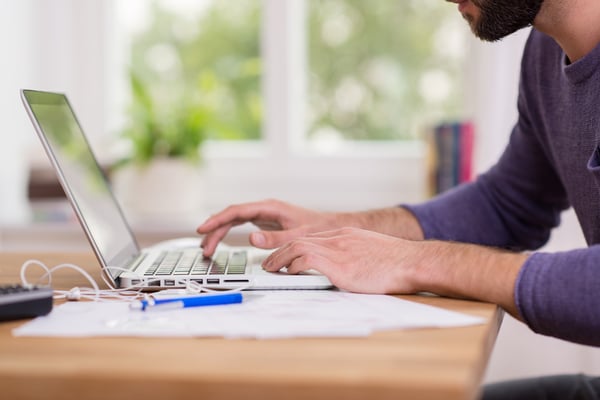 Protecting Higher-Risk Employees
In addition to safety measures taken in general, it is still important to take special care of higher-risk and vulnerable employees. The steps you need to take depend on whether your employee is classed as Clinically Vulnerable or Extremely Clinically Vulnerable. Put into simple terms, 'Extremely Vulnerable' are the people that got a letter from the government telling them to stay indoors and were provided extra help in getting supplies etc (you can read a more detailed description HERE). 'Vulnerable' are those that have underlying health conditions and/or are over 70 - these people are generally advised to have the flu jab (you can read a more detailed description HERE).
Made simple (as of current guidelines on 14 Jul 2020), The Extremely Clinically Vulnerable should still be supported to stay at home. The Clinically Vulnerable should be allowed to work from home if possible (as with everyone else) and if not possible, should be offered the safest available onsite roles, and helped to keep at 2m distance. As always, it's not black and white and you should still pay special attention to expectant mothers and people who live with Extremely Clinically Vulnerable people. Again, check the government guidance if you are unsure.
Doing It All Fairly
As if all of that wasn't enough to consider, we still have a responsibility, and indeed requirement to maintain equality in the workplace. To be sure of treating everyone fairly, employers:
Must be mindful of the needs of different groups of workers.
Cannot discriminate, directly or indirectly, against anyone because of a protected characteristic such as age, sex or disability.
Have particular responsibilities towards disabled workers, new or expectant mothers and young people.
Top Tips:
Understand the particular needs of your employees and be mindful of them.
Involve employees in decision making and communicate effectively with them - especially if you or they need to take extra steps to keep them safe.
Make reasonable adjustments so that disabled employees are not put at a disadvantage. For example, wearing masks or sitting back to back is a barrier to lip reading. Altering routes through the building might cause issues for the partially-sighted.
Make sure any steps you take for the safety of the majority are not having an unjustifiable impact on some employees over others - for example, staggered start and finish times may impede parents completing the school run, or those with religious or caring commitments.
Come back tomorrow for the fourth in our series, where we will be sharing some more simple tips to keep employees and customers alike, that little bit safer.
Bucks Biz provides office space for rent in Milton Keynes, with units available for all sectors, to suit a wide range of requirements. From small one-person start ups, right up to large spaces fit for 100 people (to be socially distanced!) we have the perfect base for your business.
Our flexible licences allow you to easily upgrade and downgrade your space as and when your business requires it - so you won't get caught out by needing more space to spread your employees out again.
We are more than just space to rent though. We are a community of businesses all eager to help each other. Throughout the pandemic, we have supported our residents to secure funding where it has been available and in adhering to social distancing and safe working practices, throughout our centres.