Are you feeling the squeeze this January, and not just around the middle? Read on to find out whether you might be time to expand your office space!
In the early days of your business, you might want to save as much cost as possible and go for the smallest office to rent near me or workshop space to rent available. But as your business grows, and you start employing staff, you might start to feel like you're all on top of each other. Here are some signs you might need to upgrade your office space:
1. Lack of Desks
Are you hot desking through necessity because there aren't enough desks to go around, or even sharing desks? According to the Health and Safety executive, there should be enough room for people to get to their desks and move around the room easily. Each member of staff is entitled to 40 square foot of floor space.
2. You Need to Impress Clients
If you have customers visiting your commercial property for rent Bletchley, you want to have able space for them. Squeezing them in to a tiny space really won't give a good impression. You want a space where you can talk to clients without interruptions and the noise of shared office space. This does't necessarily have to be a permanent space though. The smart move might be to have your office in a shared industrial unit, which has meeting rooms available to book, just like there are at our offices to rent Milton Keynes.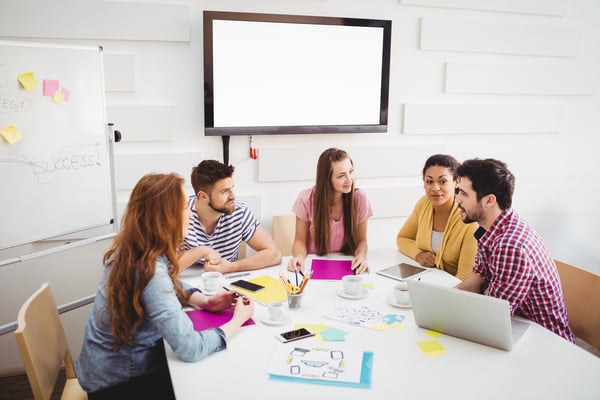 3. Employees Are Complaining
Much as you probably don't want to pander to every small request from your employees, if it's a reasonable one, you really should take their wishes into account, for the sake of a happy work environment!
4. There's a Lack of Storage
If you haven't got room to store everything you need for your business, there's a problem. You could have a thing about decluttering - and you can read our article on that HERE, but once you've whittled your things down to the bare minimum, you need somewhere to put them. Again, this needn't mean a move - lots of shared office units have extra storage units you can rent too, where your things are still on the same site, but out from under your feet in the office!
5. You Need to Hire More People.
This is a kind of obvious one, and usually means your business id doing well, but even if you're not quite there yet - why not be proactive? If you think you'll need to hire more people in the near future, think about upgrading your space in advance, so that you are well prepared.
If any of these signs apply to you, and you'd like to find out how Bucks Biz can help you expand your workshop space to rent, just click the button below, and we'll be in touch.