Emma Hardern, founder of Top Dog Turf, grew up on a sheep farm in Wales. In the 1970s, her mum wrote a thesis about local farmers who had died from Hydatid Disease after coming into contact with sheepdog faeces. The disease is dreadful and potentially fatal.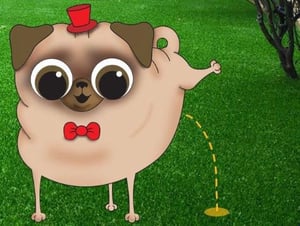 Emma and her partner owned a successful gardening business in Milton Keynes, and in 2015, they started installing artificial grass. It seemed the perfect solution for dog owners who wanted to enjoy their gardens all year round, without the quagmire that comes with dogs, grass and a British winter.
Top Dog Turf imports or specifically manufactures the components needed to install and maintain an odour-reducing and bacteria-reducing artificial turf system, designed just for dog owners. Their customers feel safe, happy and reassured about having dogs, dog poo and children enjoying the garden together with no nasty niffs or dreadful diseases!
Emma and the Top Dog Turf team are based at the Bletchley Business Campus, Bucks Biz. You can get in touch with Emma at info@topdogturf.co.uk or visit https://www.topdogturf.co.uk/.
Are you looking to rent an office close to you in Milton Keynes?
At Bucks Biz, our clients benefit highly from the advantageous facilities and resources on all of our Business Centre sites and we do our best to accommodate their business needs as it is important to us. From on-site gyms, health and beauty services right through to our cafe, reception and post services are offered when you rent an office space with us. We have various sizes of office and studio space to rent in Milton Keynes. If you are interested and would like to view our available spaces to rent, call 01908 299 007 now or click the button below.