This Saturday 23rd March is National Puppy Day! It's the perfect time to celebrate all things pooch-related and give your furry friend an extra treat or two. National Puppy Day also promotes puppy adoption and encourages people to adopt from rescue centres where there are often hundreds of dogs waiting for a home.
At Bucks Biz, we happily allow companies to bring their dogs into work. It's important that your business works for you, so if that means, for example, bringing your pooch into the office instead of going home to them at lunchtime, then you're welcome to!
There are lots of super cute puppies and dogs in the Bucks Biz centres and we wanted to share a few with you!
Daisy from Everything Beauty MK
This is Daisy who comes to work with her owner, Kym, who runs Everything Beauty MK. Daisy is nine years old and she loves getting cuddles from Kym's clients!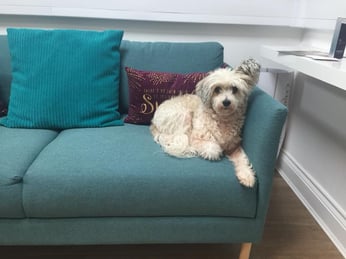 Felix from Tango Check
The Tango Check team bring Felix into work and he loves office life! He can snooze and people-watch all day.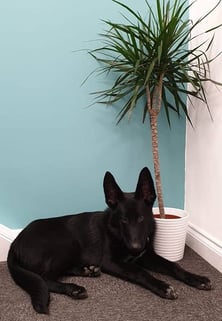 Benny from Klood Digital
This is the adorable Benny wearing his cute Halloween outfit. The Klood Digital team love having him spend the day with them in the office.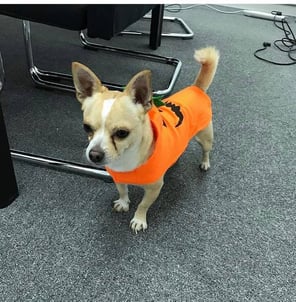 Dexter from Core Fitness Gym
Dexter, owned by Amanda from Core Fitness Gym, hasn't yet had a go on the treadmills, but they've said he's open to offers if anyone else wants to borrow him for their office!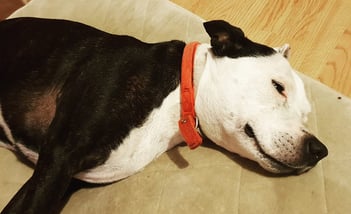 Are you looking to rent an office close to you in Milton Keynes?
If you're looking for office space to rent in Milton Keynes, Bletchley or Newport Pagnell, and you're also hoping to bring your dog to work with you, you can at the Bucks Biz Business Centres! At Bucks Biz, our clients benefit highly from the advantageous facilities and resources on all of our Business Centre sites and we do our best to accommodate their business needs as it is important to us. From on-site gyms, health and beauty services right through to our cafe, reception and post services are offered when you rent an office space with us. We have various sizes of office and studio space to rent in Milton Keynes. If you are interested and would like to view our available spaces to rent, call 01908 299 007 now or click the button below.