Today is #CycleToWorkDay in the UK. Are you a cyclist? Has the Coronavirus Pandemic encouraged you to cycle more, either to loose those Lockdown Lbs, or to avoid public transport? Cycle to work day is all about getting you out on your bike and enjoying the commute - and or Milton Keynes Business Centre is the ideal office and commercial space to cycle to - with plenty of covered cycle storage bays to keep your precious bike safe while you work.
You can sign up to Cycle to Work's Love to Ride online community HERE. You can also sign up with Facebook or Strava, to log your rides. If you have cycled in to your commercial property for rent Bletchley, or offices to rent Milton Keynes today, or if you are still working from home and took a cycle to the shops, or just for exercise, take a quick selfie and upload to www.cycletoworkday.org to share your ride.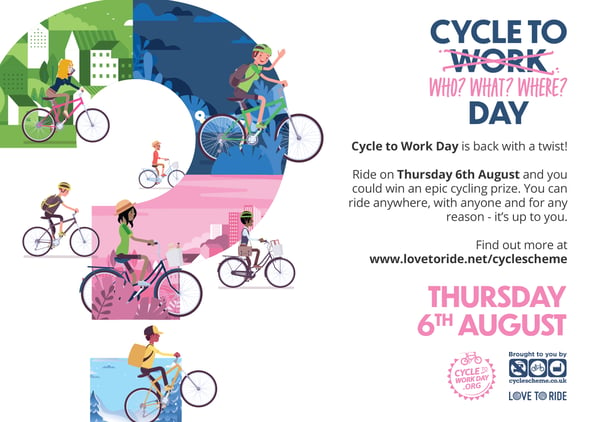 Would some nice new cycle gear help with your motivation to get out on the road? You can read all about Bucks Biz resident Gear Club HERE. Gear Club Ltd is one of the leading technological innovators in the printed sportswear industry - specialising in cycling kit that can be personalised to your team, charity or event.
Gear Club are even ready to help you to show your support to our NHS during the COVID-19 pandemic. They have designed an NHS kit, so you can show your support while out cycling. Gear Club says "15% of the sale of this item will benefit COVID-19 Relief Campaign". Supporting an alternative charity? No problem - Gear Club can customise your kit to any cause of your choice, and even offer sponsorship.
Bucks Biz provides office space for rent in Milton Keynes, with units available for all sectors, to suit a wide range of requirements. From small one-person offices to warehousing or offices with socially-distanced space for 100 people - we have the perfect base for your business.
We are more than just space to rent too. We are a community of businesses all eager to help each other. Throughout the pandemic, we have supported our residents to secure funding where it has been available and in adhering to social distancing and safe working practices, throughout our centres.
Why not visit us and see for yourself?