Meet Colin Mackman. Colin, and business partner Dale Jewett run DALROD MK - a local run drainage solutions company, who pride themselves on offering fantastic customer service each and every time. Whether its maintenance or an emergency, DALROD is always there 24/7. Read on to find out more about them, and why they chose to rent their commercial space at our Milton Keynes Business Centre.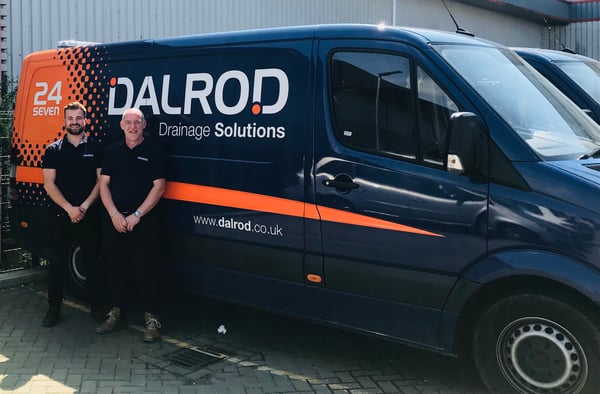 Directors, Colin and Dale had been long-serving DALROD employees, both working at DALROD Peterborough for over 15 years before taking on their own area, renting workshop space from Bucks Biz, and becoming Directors of DALROD MK in 2017. There is nothing in the drainage industry these two don't know, with their wealth and knowledge and willingness to go above and beyond for their customers you are in great hands.
Dale and Colin have ambitious plans to increase the number of technicians and vehicles at Milton Keynes, having already recently added a second Combination Vacuum Tanker to their ever-increasing fleet. The duo expects to grow revenue to over £1 million by 2020, due to undertaking larger projects and more complexed jobs. DALROD MK have a mission to become the most trusted drainage and sewer renovation organisation in the Milton Keynes area, and they are well on their way to achieving this. The flexibility of renting commercial space at our Milton Keynes Business Centre is perfect for Colin and Dale, as it means their industrial unit can grow with them.
Colin says "The I-Centre was chosen as our location mainly for the reason that the majority of our customers are based within the MK postcode area and we are able to react to their requirements and emergencies very quickly when required. Bucks Biz is a very friendly place to work from and every one within the community seems to help each other out when and if required."
"We just searched for 'small workshop space for rent near me' and the iCentre seemed ideal for us. In terms of workshop space to rent in Milton Keynes, Bucks Biz has all the facilities we need, plenty of parking for our large vehicles, and a great community feel."
You can meet Dale and Colin at the Bucks Biz Family Fun Day on Saturday 21st September. They won't be hard to spot, as they will be bringing along one of their huge tankers! They will be showing us their drain camera technology too, and you can ask any questions you have about drains and sewage!!
Colin is a member of our Bucks Biz Comminuty page on Facebook too - why not connnect and see if you can do business together?
Are you looking for commercial space to rent in Milton Keynes? Just click the button below to find out more about us.