The 4th May has officially become known as Star Wars Day. What started as pun warmly shared by fans has become a full-fledged Star Wars holiday! Regardless of whether you prefer Star Wars or Star Trek, or if even a sci-fi aficionardo at all, the influence of George Lucas' Star Wars on pop culture is undeniable.
Events take place all around the world and range from big events, costume contests, museum exhibits to tours of space centres. We've found some fun ways for you to get involved at work:
1. Dress for the occasion
Sashay into work 'Princess Leia style' by rocking those gorgeous side buns, this goes for guys too...why else were cinnamon buns invented!! Take advantage, there are no other days where this is considered acceptable!
2. Bring your 'Wookie' to work
We're a dog-friendly environment here at Bucks Biz so why not bring you're little bundle of fur to work and tell everyone it's your best 'wookie' friend (ha ha). You can even get Star Wars costumes for your four-legged friend, take a look here. Check out our blog post from National Puppy Day to check out the Bucks Biz pooches.
3. Bake star wars goodies for your colleagues
Get your bake on and rustle up some Star Wars cookies of cupcakes for your bezzie work mates! For inspiration check out these bad boys on Pinterest.
4. Change your hold music to the star wars theme tune
Catch your customers off-guard by changing your hold music to the Star Wars theme tune, if anything it's a good conversation starter! Or you could really freak them out by changing it to the grisly, mechanical sound of Darth Vader's breath!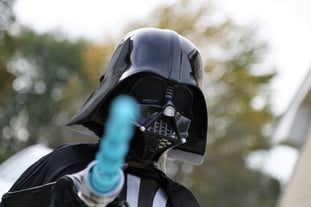 5. Talk like Yoda all day
Enough said!
`