It's October – the month of ghouls and ghosts, naked trees, and, well, Back Pain Week of course!
Each year, an average of 2.6 million people in the UK seek advice about back pain from their GP. Lower back pain affects approximately 1 in 3 adults, and with an aging population, this number will only increase.
A large proportion of UK office workers spend between four to nine hours sat at their desk each day, and with the rise of new technologies, our working lives are changing to accommodate digital solutions.
For those of us that have relatively inactive jobs, the chances of developing back pain are high. However, let's not get too fatalistic – there are preventative measures that can be taken to mitigate the risks.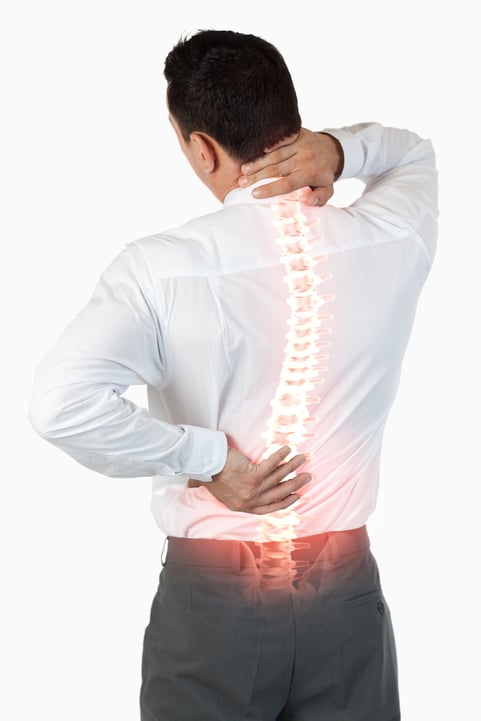 So, businesses and employees: take note - here are our top 5 tips for taking care of those backs at work!
1 Good posture
Keeping your head straight and shoulders relaxed as much as possible will make a huge difference when it comes to your long-term back health. Many of us hold tension in our shoulders when we're stressed or anxious. If you feel your shoulders creeping up towards your ears, do some simple shoulder rolls to try and relax the muscles.
You can also try and massage the muscles yourself to release any tension. Start at the top of your neck just beneath your hairline, and use your middle and forefingers to massage downwards in a circular motion.
2 Evaluate your work station
It may seem obvious, but the positioning of your desk, chair and computer is vital when it comes to preventing any long-term damage. Most of us spend a considerable amount of our day glued to our desks when we're not rushing to meetings, commuting or walking from one office to another.
Make sure your chair allows your back to rest against a lumbar support. It should also be very slightly reclined. Your mouse should be close to your keyboard, so you're not having to overreach or move your shoulder while clicking.
Your monitor should be about 2–3 inches above eye level and your torso should be about an arm's length away from the screen.
3 Breathe, breathe, breathe
Sounds weird, right? The truth is, most of us forget to breathe regularly and this can impact the core muscles which support the lower back. If you notice yourself holding your breath – again, this is a common symptom of stress – try some breathing exercises to refocus and get back into a regular breathing pattern. Here are five exercises you can try at your desk.
4 Position your feet properly
Although many of us have a habit of crossing our legs, it can lead to joint issues, knee pain and lower back problems. While sitting at your desk or during meetings, try and keep both feet flat on the floor to relieve tension and maintain good alignment in the spine.
5 Take breaks and exercise
I know, you've probably heard it so many times before, but exercise really is good for you. It's unhealthy to be sat in the same position all day long. Our bodies need movement, whether that's a simple walk around the office, a brisk stroll in the park or a lunchtime run, it all contributes to improving overall wellbeing.
If you struggle to fit exercise in to your 9–5, then why not try a class after work on the way home? It doesn't have to be every day. Start with something that's achievable to you – if you set your goals too high, you'll probably find it hard to sustain in the long-run. There are plenty of places to get exercise here at Bucks Biz. You can read about Fitter Body Ladies here and Rebellion Fitness here.

If employers would like more information on wellbeing, and how to best support staff, there are a number of trusted sources such as The CIPD report on Health and Wellbeing at Work.
If you're looking for offices to rent Milton Keynes or small workshop space for rent near me, click the button below and find out how we can help.