Industrial and Workshop Space to rent in Milton Keynes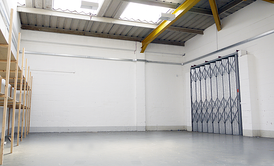 Not everybody understands how 'Industrial Space' can differ from any other form of space. We do. BucksBiz has been a big-time provider of industrial space for many years, especially for the smaller company and those seeking to start out in the business world.
We know that space for industry means different things to different people, but we believe we can accommodate most requirements within one or other of our large industrial complexes in the Milton Keynes area. Units able to accommodate a host of applications, including light manufacturing, parts assembly, fabrication and pre-erection, specialist vehicle design and build, vehicle or product maintenance etc are typical of our experience in this field. Practical assistance from our on-site management team can be called upon to adapt any empty industrial space to suit particular needs.
Good, level flooring with useful floor loading limits, ready access to main services, including adequate power supply and IT connectivity, can all be found within the industrial spaces at Denbigh Business Park,Bletchley Business Campus and Interchange House. All industrial spaces have street-level or ground floor 24/7 access and their own individual entrances for maximum security. Thanks to their strategic locations both sites provide excellent unrestricted vehicular access for distributive purposes and can easily be found by visitors. Furthermore, being established business premises, we understand the nature of typical planning procedures and can help minimise potential problems.
Before making any decision to take up industrial space you would be well advised to consider not only the mix of units we offer, but also to discover the very real benefits of the deals we can provide. A few hours spent doing this could well save you an awful lot of money in the future, money best used in furthering your own business, and minimise the commitment needed while you get started.
Our rent includes the following listed features:
Business rates
Site security out of business hours
Insurance of building
General repair and maintenance
Discounted telecoms and broadband
Professional reception services (where applicable)
Telephone answering service (Fair Use Policy Applies)
Use of reception areas
Use of kitchens and toilets
Water rates
Refuse collection
Servicing, maintenance, repair of our equipment
Landscaping maintenance
Heating and lighting of all communal areas
To help you choose from any of the different all-inclusive packages on offer details can be found by contacting us by phone or e-mail.