Studio Space To Rent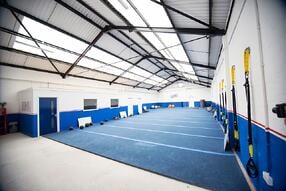 As 'specialists in space' we know that there is a lot more to the subject than one may suspect. What then do we mean by Flexible Space? Any fledgling business looking for a base from which to build should know exactly how much space it will require to get up and running, but the exact nature of that spacemay be less easy to quantify.
There are often so many 'What ifs' that it might be difficult to define the nature of the space requirements with any degree of certainty – and a wrong initial decision could seriously jeopardise future growth. Nobody plans for an early major move, for example, that could prove to be both expensive and damaging to a new business. This is why the adoption of a flexible workplace from the outset is all-important.
Such an occupancy makes it possible to adapt the space to meet changing demands. If, for example, the initially planned ratio of office, production and storage areas prove to be drastically miscalculated, or if the direction of the business takes an unexpected swerve, then a flexible workspace would be one that could reshape itself accordingly.
Our experience is to expect the unexpected – and flexible workspaces are the best way to be prepared for any eventuality. What's more these spaces come with equally flexible terms. New businesses must be ready to seize any window of opportunity as it arises, even where a 'change of use' may need to be considered. In such happy circumstances what could be better than knowing that the existing space and terms are flexible enough as to make a move unnecessary?
For the above reasons alone, Bucks Biz should undoubtedly be high on your 'must see' list of places to visit when looking for flexible workspace. With three thriving business centres in Milton Keynes, known respectively as the iCentre, in Newport Pagnell, Bletchley Business Campus and Denbigh Business Park. We believe you will almost certainly find what you need and with sufficient inherent flexibility as to ease any concerns you might have about their suitability for the long haul.
Our rent includes the following listed features:
Business rates

Site security out of business hours

Insurance of building

General repair and maintenance

Telephone answering service (Fair Use Policy Applies)

Use of reception areas

Use of kitchens and toilets Water rates

Refuse collection Servicing, maintenance, repair of our equipment

Landscaping maintenance

Heating and lighting of all communal areas
When it comes to Flexible Workspace let us be your flexible friend! Check out our many inclusive packages and you can then decide on which would meet your needs best.Fill in our quick quote form below, or speak to our friendly sales team 01908 299007.